Product Description
A starter package ideal for endurance race cars without OBD-II or CAN bus support! Works with RaceCapture/Pro MK2 and higher (sold separately)
This package includes:
Free Race Capture app (download from Google Play Store or the Amazon App Store)
10 bar / 145 PSI Oil Pressure Sensor (1/8″ NPT)
Coolant Temperature Sensor (1/8″ NPT)
Oil Temperature Sensor (1/8″ NPT)
CoilX RPM adapter
SensorX Sensor breakout board
2 amp hard-wired charging cable for your Android device
What sensors will I get with this package?
With the Endurance Racing Package you'll enable the following channels:
Engine Temperature
Oil Temperature
Oil Pressure
Throttle Position (direct connection to throttle position sensor)
Fuel Level (direct connection to fuel level sender)
RPM (via CoilX module or direct connection to ECU signal)
Battery Voltage
High performance GPS (position, speed, altitude)
6 Axis Accelerometer + Gyro
Some Assembly Required
What's the gotcha with this incredible price? You (or your enlisted electrical expert friend) will need to be comfortable with a soldering iron and should know how to do clean wiring installs. Fortunately, the SensorX breakout board lets you combine multiple sensors into a single wiring harness for maximum DIY convenience.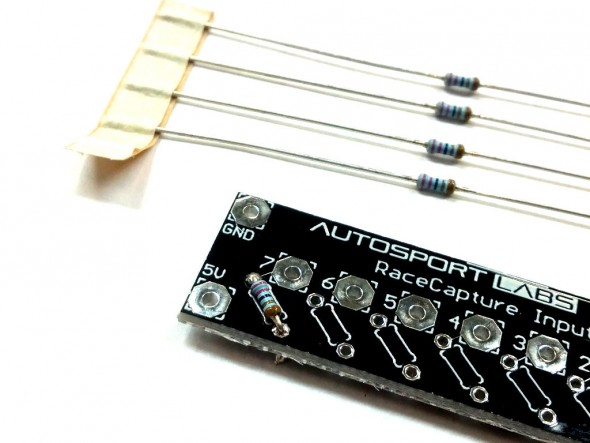 Predictive lap times with the Race Capture app
The free Race Capture app provides a fast, real-time view of your race car's data, including predictive lap times, sensor alerts and a customizable dashboard. Try it today: Download from the Google Play Store or the Amazon App Store!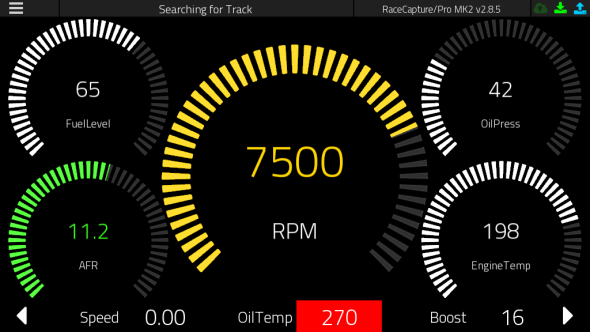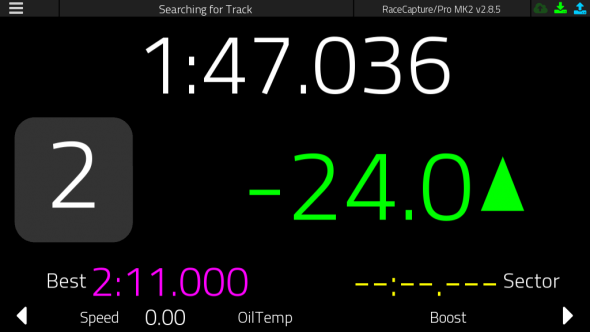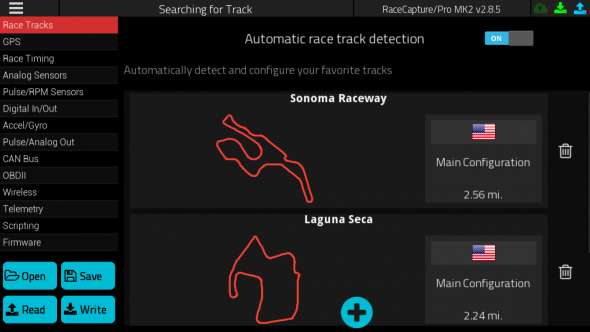 Hard-wire your Android Device for a permanent install
The included 12 volt 2 amp charger is designed to be hard-wired into your race car's electrical system and will keep your Android dashboard supplied with power.
Which Tablet to get for my dashboard?
We recommend a high quality device from Samsung, LG, Google, or the hot new Amazon Fire tablet!
Works with virtually any sensor
Need to log temperature, pressure, wheel speed, RPM and more? Check out our Sensor Guide  to learn how to set up just about any sensor you need!
3 powerful options for analyzing data
Analyze your data in the cloud by streaming real-time data to Podium
Use the included RaceCapture software to configure RaceCapture/Pro's features and perform multi-session analysis
With it's open file format, RaceCapture/Pro is compatible with industry-standard analysis software like the powerful and free-to-use Gems Data Analysis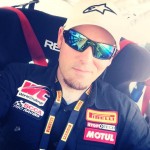 RaceCapture/Pro allowed us to take the guess work out of changing a car's setup.
Chris WynneRS Werkes Pirelli World Challenge Data Analyst
In Real-Time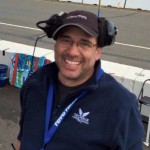 The real time aspect of RaceCapture Pro proved it's worth when I identified a temperature problem (fan failure) before the car even made it out of the pit lane.
Technik HQ - Team Principal
Race Capture telemetry benefits and features
Your race car's data will stream directly to the cloud at Podium and is viewable from anywhere, whether the pits, to friends at home, or fans far away.
Make more strategic decisions based on live data from your car
View vital stats from anywhere in the world with an internet connection
Allow your drivers to do what they do best while you monitor your vehicle's performance
Plan your racing and pit strategy based on real data
Share lap times and GPS location with your team's fans
Track and record lap times
Replay and analyze previous events