Meet Tasha Mikko, one of our favorite customers and an early adopters of RaceCapture/Pro. Tasha competes heavily in Autocross here in the Pacific Northwest region.  Here's her story in her own words!
What region / location / tracks do you currently race at?
I race in autocross events, primarily with the Northwest Region of the SCCA (NWR-SCCA) but I sprinkle in a few events with Bremerton Sports Car Club (BSCC), Torque Steerers (TS) and the National SCCA Solo program. The NWR-SCCA races at the Bremerton Motorsports Park in Port Orchard WA, and at Hampton Mills in Packwood WA (a decommissioned timber mill). The National Solo program travels around the country to different sites throughout the year. My husband and I recently packed up our race car and drove it to Crow's Landing CA, located in the Central Valley about 860 miles from our home in Seattle WA, and raced in two National events, the ProSolo and Championship Tour. We're planning to compete in the SCCA Packwood Championship Tour and ProSolo coming up over the first two weekends of July.
I have not yet raced wheel to wheel on a track, but I did a lapping day at the Ridge Motorsports Park in Shelton WA.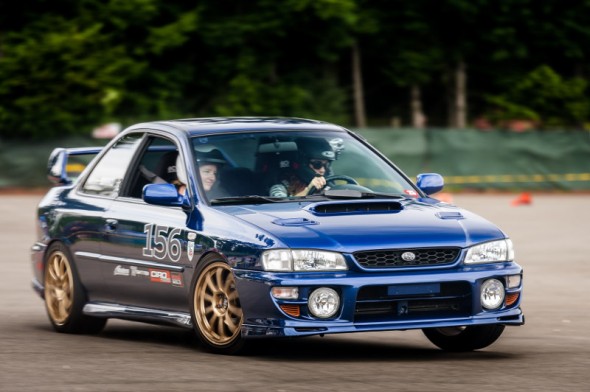 What class do you compete in?
I compete in the SCCA's Street Touring Ultra class. In short, Street Touring classes run on street legal tires and are allowed to modify suspension, brakes, and some components of the air intake and exhaust system, while motors, transmissions and differentials must remain stock.
What's your racing history?
I started racing autocross in 2004. I had been attending events with my husband for 3-4 years prior to that and went for lots of rides, but never quite had the courage to take the plunge until my husband convinced me to go to a Ladies Practice event. After that practice I was completely hooked.
Any previous race cars?
2000 Subaru Impreza 2.5RS Coupe – Street Touring Compact – still owned
2004 Subaru Impreza STi – Street Touring Ultra
2003 Mitsubishi Evo VIII (borrowed) – Street Touring Ultra
Future plans?
I plan to keep racing autocross with my husband for now and we hope to get some lapping days in at Sonoma Raceway and Laguna Seca at some point in the near future. We have started to think about adding a RWD sports car to the mix at some point and maybe, maybe form a Chump Car or Lemons team with friends.
Year make model of your car?
2006 Mitsubishi Evo IX
In what areas are you using RaceCapture/Pro to fill in those knowledge gaps to help you go faster?
We use RaceCapturePro a couple of different ways. We use the gauges feature of the android app when we're street driving or doing a lapping day in the Evo to monitor motor-health related sensor feeds (wideband AFR, oil pressure and MAP) with a 10″ tablet mounted on the dashboard. We also use the RaceCapturePro in combination with the Solo Storm data analysis app. The Solo Storm android app captures the GPS and several sensor feeds from RaceCapturePro. With this awesome combination we closely monitor critical car sensors and driver performance. For instance, when comparing two of my runs, or my run to my husband's run, the differences in the MAP and AFR readings clearly demonstrate the sometimes subtle differences in how each driver is using the throttle, which can be extremely helpful if I'm feeling indecisive about whether to lift or brake, or how hard to get on the throttle in a particular spot on the course. These sensors also provide important information about whether or not we are running too lean and if we are getting too much or not enough boost. We're really looking forward to adding additional sensors such as throttle position, brake pressure and tire temperature.
If you were any race track in the world, what race track would you be?
I'm torn between the Circuit de Monaco and the Autodromo Jose Carlos Pace in Sao Paulo Brazil