Level up your race craft with real-time data
Getting real-time data set up in your endurance race car will provide your crew and driver with critical, strategic information during your race:
The pit crew can monitor and coach the current driver's performance in real-time – even compare their current laps against other drivers on the team
Connect a fuel level sensor, monitor fuel consumption and plan re-fueling strategy in advance
With even more sensors, the crew can also monitor engine health such as engine temperature and oil pressure
The driver can also see their lap times as they happen, using the mobile app dashboard
Thunderhill Raceway and Verizon
Thunderhill Raceway has some unique constraints when it comes to internet connectivity: virtually nothing works except for Verizon. Thanks to the persistence of Thunderhill Raceway's management team, Verizon invested significantly in on-site infrastructure and now their 4G LTE service is 5-bars spectacular where other providers like T-Mobile and AT&T are virtually non-existent. If you're running RaceCapture/Pro telemetry at the 25 hour race, using Verizon is a must. Here's what you need to do:
Use the RaceCapture mobile app for telemetry
With the RaceCapture/Pro system you have two telemetry options: the dedicated GSM real-time module, which can use any GSM sim card (T-Mobile, AT&T, etc), or- telemetry over bluetooth via the mobile app, which can use any provider, including GSM or Verizon's CDMA network.
Setting up telemetry via the mobile app is straightforward – just follow these steps:
Get a Verizon connected Android device
If you don't have one already, get an Android device that can connect to the Verizon Network.
An android phone with a Verizon service plan
An Android tablet with a Verizon SIM card
An Android tablet wifi-linked to a Verizon Hot Spot
If you're buying an android tablet, choose a good quality unit with Bluetooth and an IPS screen for better brightness and contrast. The Samsung Galaxy Tab 3 and Google Nexus 7 are great choices.  To get your touchscreen to work with gloves, consider the AnyGlove drops we're currently evaluating.
Get a Strong tablet mount
At the Thunderhill 24 Hours of LeMons event in September we used the phenomenal dual suction cup RAM mount for our Galaxy Tab 3. Unfortunately, the spacing between the end clamps on the mount were too wide for our tablet, so we removed the ends and attached it directly to the back plate with industrial hook and loop fastener, seen here: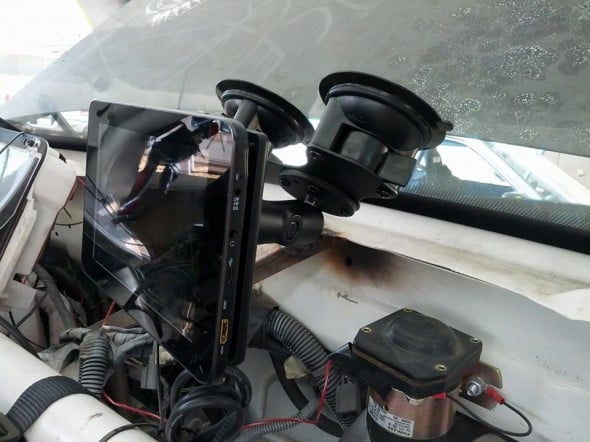 Configure RaceCapture/Pro firmware settings
On top of your regular sensor configuration, set the following RaceCapture/Pro firmware settings:
Enable Bluetooth telemetry mode
Configure Start finish line for Thunderhill:

If running RaceCapture/Pro MK1, set the start/finish line to: 39.538471, -122.331182
If running RaceCapture/Pro MK2, select Thunderhill from the list of track maps for auto-detection
Set all of your telemetry channels to 10Hz max
Important: Enable Latitude, Longitude, Distance, Time, LapCount and LapTime channels (should be enabled by default) and set all to 10Hz.
Write the firmware settings back to the unit (and re-read to verify) – then save a copy for safe keeping.
Set up your Android device and RaceCapture app
Go to the device's Bluetooth settings and pair the tablet with the RaceCapture Bluetooth module.
Install the RaceCapture app on your mobile device and connect the app to the RaceCapture/Pro Bluetooth module. After connecting you should see data updating on the sensor monitor screen.
Now, create a device on race-capture.com and configure the app with the Device ID provided: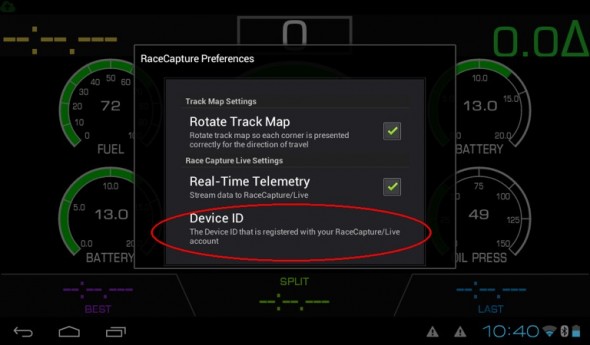 Testing
Once you enable the Real-Time telemetry option and enter a valid Device ID,  you'll see the green cloud icon light up in the upper left hand corner, providing the tablet is connected to the network. You'll then see your streaming data under your race-capture.com event page.
Powering everything in the car
You will want to ensure your devices are powered correctly during the race:
Tablet: Ensure you have a proper 2 amp charger and that it can keep up with the tablet's demands. Use a high quality charger and verify it's performance in advance, as not all 2 amp chargers are created equally!
Verizon hot spot:– the same applies. These hot spots consume a lot of power while transmitting 4G LTE data -ensure the charger can keep up.
RaceCapture/Pro: Keep power applied during the entire race. If power is interrupted, the Bluetooth link will drop. Even though the app is designed to automatically re-connect, the Bluetooth stack on Android does not always cooperate, and the app may need to be re-started to fully recover. You'll get the best results if you can hard-wire RaceCapture/Pro to always be on.
Have Questions? Drop us an email at [email protected] and lets talk about your setup!