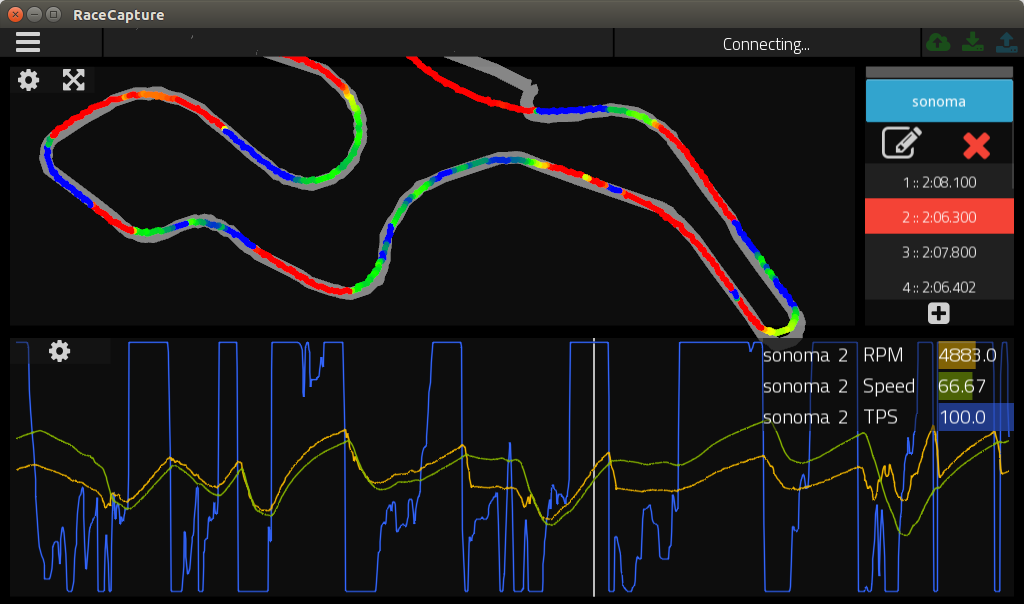 Many months in the making: analysis is now available in the Beta release of the RaceCapture app!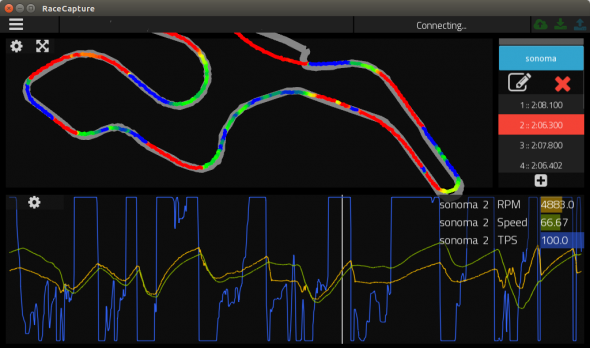 Get it below, and post your testing results feedback in the Beta Testers Group or our forums! We're sure you'll find quirks and bugs, but hopefully no crashes!
Windows and OSX
Download the RaceCapture 1.4.0 beta from the downloads page
Android
You can access the 1.4.0 Beta by signing up as a beta tester for the Google Play store:
Join the Beta Testing group

Important: You actually have to join the group. Make sure you're browsing using desktop mode.

Opt in for beta testing

Make sure you un-install any existing version of the app

Post your testing feedback in the Google Groups!
Sample files
We have a collection of sample log files for you to try out from Sonoma Raceway, Thunderhill Raceway and Laguna Seca. Try importing one of these to get a taste of the capabilities
Importing your own data
There are a few constraints around importing your own data – read this for a successful experience:
Must have laps – Your logfile data must have laps registered – meaning, a start/finish line was set or RaceCapture was using an auto-detected track when the logfile was recorded.
Need log file generated by recent firmware -Version 2.8.x and later firmware is recommended- specifically, the Interval and Utc columns need to be present in the logfile for correct importing.
Min / Max metadata values must be sane – in the Beta we don't yet have the ability to edit the channel's metadata information (min, max, units) so your imported data needs to have correct values for chart scaling to work correctly.  For example, if you have an RPM channel with 0 / 0 for min / max range, the data won't display properly on the charts.  We have instructions here on how to fix up your data.
Loading a log file on Android:
Until we have the ability to import data via the cloud or wireless link, you'll need to first get the log file onto the Android device's internal storage. You can shuttle it there via USB connection, email, direct download- whatever works for your device.
The RaceCapture mission: Ease of use, period.
The goal for RaceCapture remains the same – to strive for an easy, fun, self-guided experience that minimizes trips to official documentation- and hell-no to hours-long seminars to learn complex software.
Designed for 2016
Windows 95 is long gone and you shouldn't have to deal with clunky windows desktop software. RaceCapture provides a touch-oriented, mobile-first interface that's easy to use track side, in the pits, or wherever you are. No laptop computers awkwardly perched on your knees, roof of the car or elsewhere that can fall and crash to the ground. Leave your expensive computer at home!
A solid foundation
This Beta release lays a solid foundation for future enhancements. Namely, you'll get:
Ability to import RaceCapture/Pro data logs into separate sessions
Compare multiple laps in the track map view, with the ability to compare driving line
Compare multiple channels and multiple laps on one chart
Create a heat map of a selected channel
Future Enhancements
We're only getting started. New features will come on strong – here's a sampling:
Additional analysis widgets like histograms, scatter plots, traction circles and more
Min-max summary tracking for each lap across multiple sessions
Sector analysis, exposing the sector timing already being recorded by RaceCapture/Pro
Theoretical Best Lap – by combining the best sectors across all of your sessions, assemble a theoretical best lap that shows the rock-star driver you could be
3D visualization. Because we live in a 3D world
The living list of RaceCapture analysis enhancements and bug fixes can be found in our github repository .
Social Analysis and live streaming via Podium
Not only will you be able to import your own data, but you'll be import live telemetry data from your own race cars and those of your friends, all provided by the Podium platform.