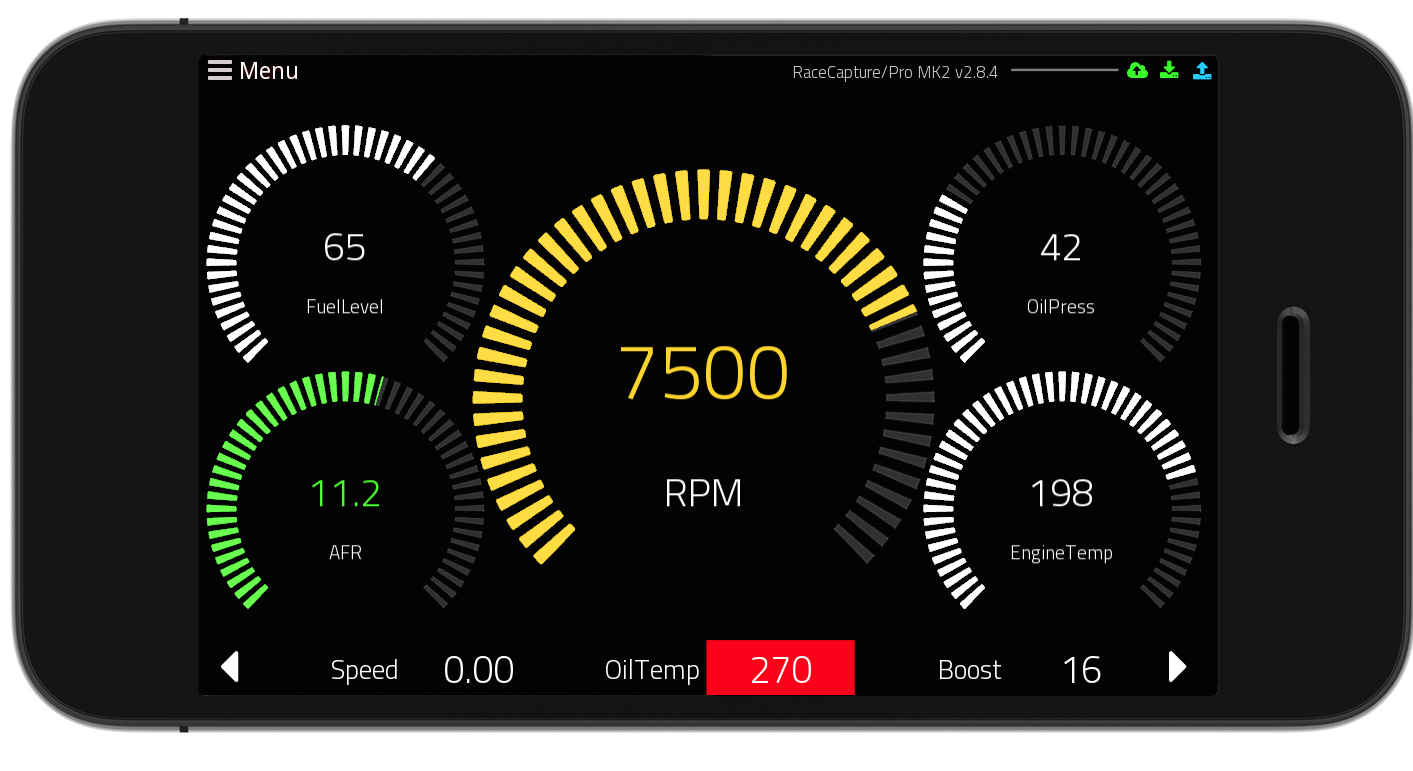 RaceCapture 1.3.9 is available in the Android Play store Beta – and we're pretty confident it's the final release before we push it to production! It's packed with tons of improvements including the built-in telemetry capabilities released in 1.3.8 (see the green cloud icon?), stability improvements and a bunch of usability fixes. Here's the full list of changes: See below on how to be a beta tester.
==1.3.9==
* Default screen can be selected under preferences
* Last selected dashboard is loaded on next startup
* Ensure whitespace in telemetry device ID is stripped out
* Remove preferences for features not yet implemented
* Prevent labels and values from wrapping
* Improved scaling of color widget
* Improved crash recovery and crash reporting
* Improved clarity of settings field in Config View
RaceCapture/Pro
Just learning about the RaceCapture? It's a free app that provides an incredible window into the RaceCapture/Pro telemetry stream: you can see predictive lap times, custom sensors, CAN/OBD-II ECU data, accelerometer and GPS data – all from one small Bluetooth and cellular connected box! Systems start at $429.95.
Not pausing!
Ok, we might catch our breath. But the RaceCapture app releases are nothing short of aggressive – and if you stay on as a Beta tester you'll get to try the latest new capabilities we've been working on, including one we've been dying to get you – in app analysis – right from your smart device. It's going to be awesome.
How to Beta Test
Join the Beta Testing group

Important: You actually have to join the group. Make sure you're browsing using desktop mode.

Opt in for beta testing

Make sure you un-install any existing version of the app

Post your testing feedback in the Google Groups!
More Screenshots
These are all pretty much self explanatory – but why look when you can play with it yourself!