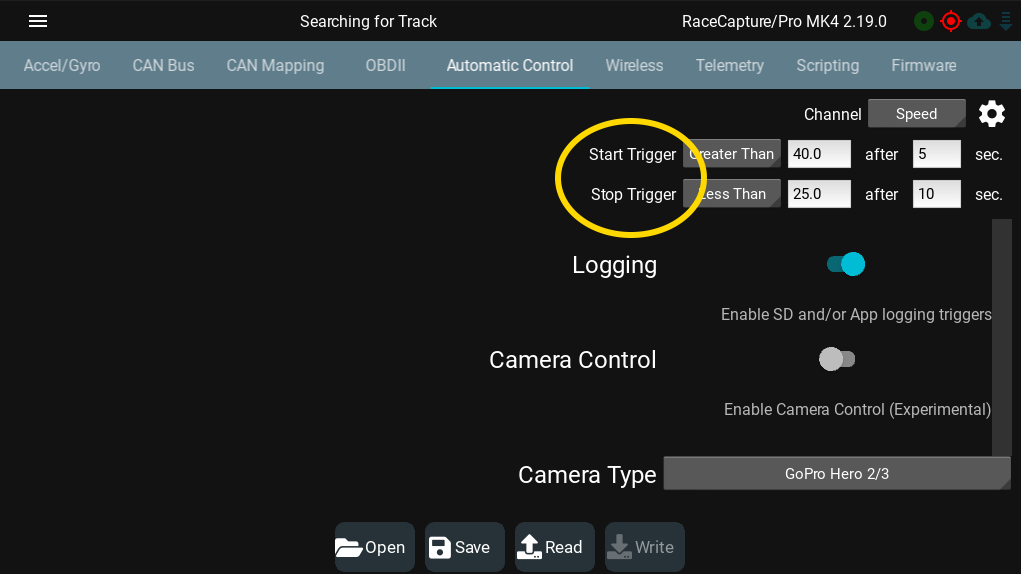 v2.4.0 RaceCapture app brings one key feature plus a host of usability improvements. Read on:
Upgrade your firmware!
Super important! Be sure to upgrade your firmware to 2.19.0 so app-base logging continues to operate correctly.
Improvements to RaceCapture app logging
The RaceCapture app now logs data according to the Automatic Control settings found under Setup.
How it previously worked
Prior to v2.4.0, the app automatically triggers logging when you enter the dashboard, and stops when you leave the dashboard for 1 minute.
How the new logging works
Now, with v2.4.0, logging will be synchronized with the firmware auto start/stop logic. This is an important, long overdue feature so your log files are more precisely aligned with automatically triggered video recordings.

This new in-app logging feature requires this new 2.19.0 firmware, so upgrading is very important for those that log data within the app. (Note – This does not change SD card logging in RaceCapture/Pro, PodiumConnect, or RaceCapture/Apex)

The new app logging now includes a new toolbar icon that lights up when session recording is active:
Logging behavior is now controlled by the Automatic Control settings under Setup: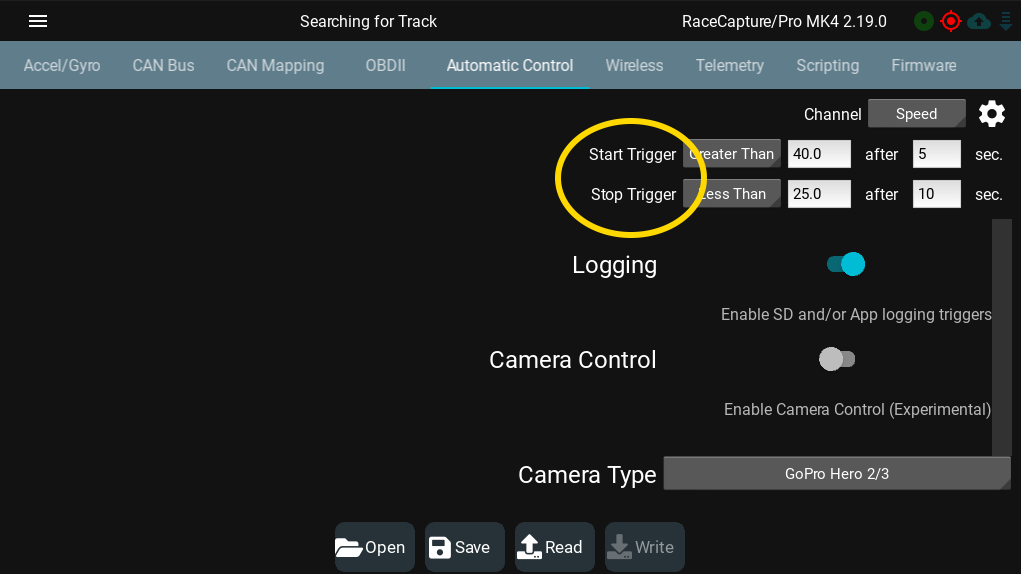 Usability improvements for channel editor and dashboard alerts
We've reworked dashboard alerts to work better on small screens, and overall make the interface more responsive.
Analysis – Flow Gauge view now scrolls to accommodate additional panels
You might've noticed how the Flow Gauge views in analysis get progressively squished when adding panels. Now, they start scrolling vertically as needed – like you'd expect them to! This was especially needed for mobile / phone usage.
Available on all platforms. Seriously.
The RaceCapture app run basically everywhere. Download links:
Android: Download from Google Play
iOS: Download from the App Store
Windows: Download Direct
OSX: Download Direct
Linux: Download Direct
Raspberry Pi: Download Direct
Full Change Log
==2.4.0==
Improve layout and usability of Dashboard Alerts editor for different screen formats and sizes
Move analysis playback control to bottom and improve horizontal responsiveness
Improve playback accuracy of Analysis playback control
Fix Analysis Flow Gauge view having too many panels; now vertically scrolls as needed
Fix analysis Flow Gauge view where inserting a gauge panel in a specific position works as expected
Improve loading speed of channel customization and alerts editor dialogs for Dashboard and Analysis views
Add more cell providers for EU and Australia regions
Fix intermittent rendering issue for text inputs
Improve layout for small devices on Setup screens
Improve input validation for CAN and OBDII mapping screens
Fix some cases of double characters when running on RPi
Fix pit-to-car alert message popups