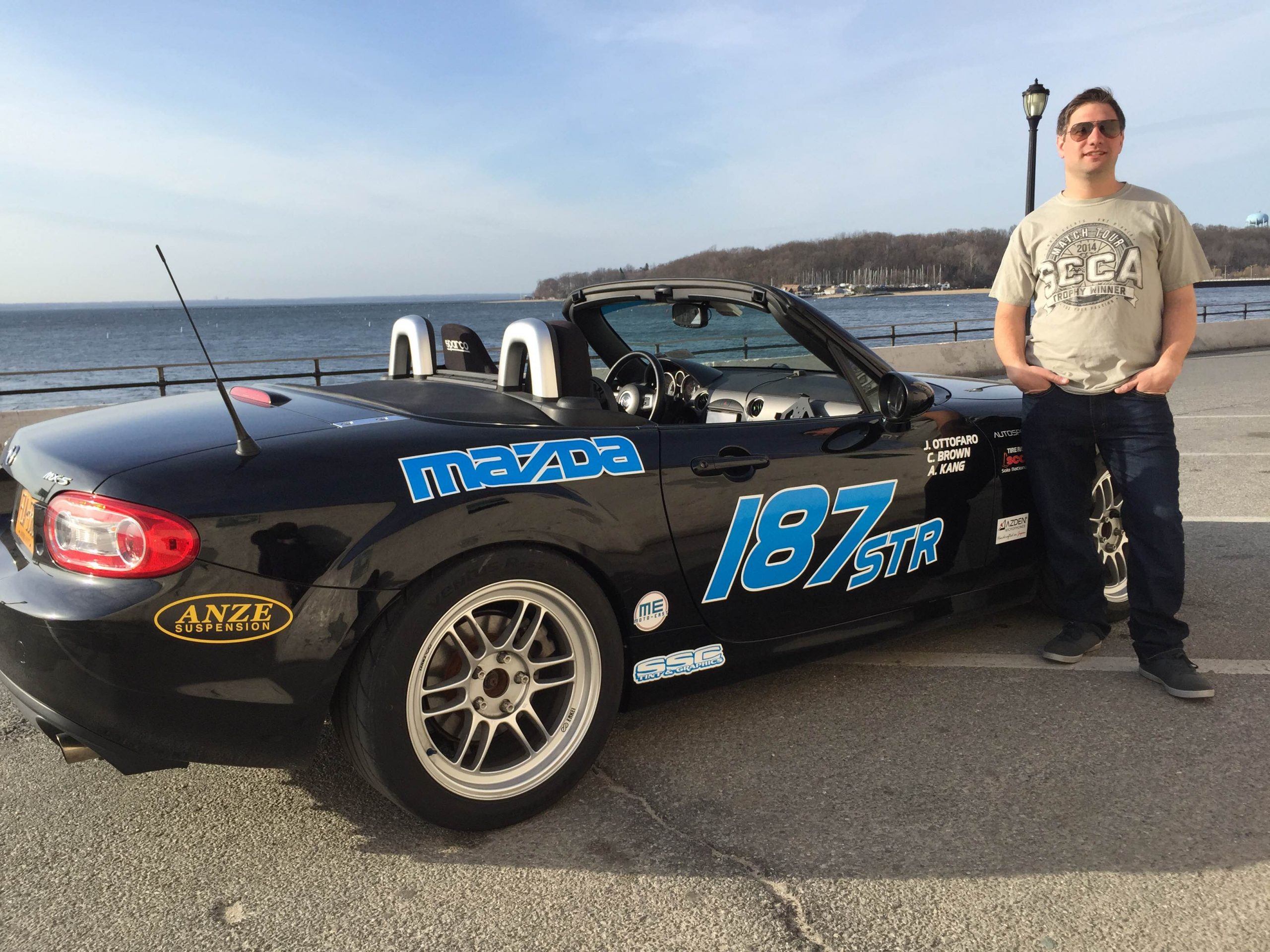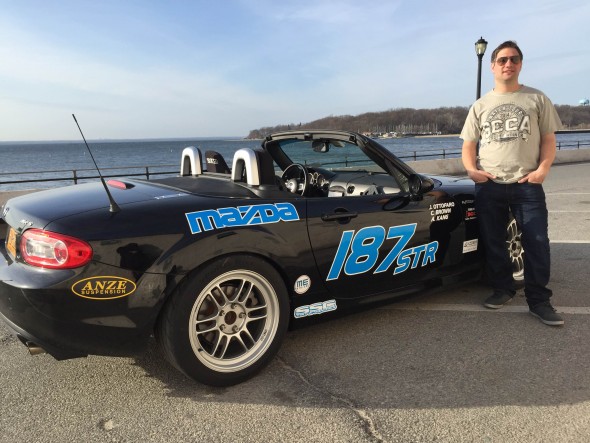 Autosport Labs is proud to announce our sponsorship of autocrosser Joe Ottofaro of New York. Joe competes in SCCA in his Mazda MX-5. Read on for more info on how he uses RaceCapture/Pro to drive faster!
What region / location / tracks do you currently race at?
I autocross in both National and Local events. My primary club is Northern New Jersey Region (NNJR) of the SCCA where races are held at MetLife Stadium. Throughout the season, I'll often race with other local clubs such as MetroPCA at Tobay Beach and BMWCCA at Nassau Coliseum on Long Island as well as with PhillySCCA at Warminster, a runway-style location.
I began participating in National SCCA Solo events in 2012 including ProSolos, Championship Tours, and Match Tours. These events have taken me to a number of locations that I'll revisit this year, like FedEx Field in DC, Devens Airfield in Massachusetts, and Wilmington Airport in Ohio. For the upcoming season, I'm looking forward to adding the Toledo Express Airport in OH, as well as the National Championships at Lincoln Airpark in Nebraska.
What car(s) do you currently race?
This season, I am racing a 2009 Mazda MX-5, race-prepped including Penske coilovers, PPE long tube header, RoadsterSport race muffler, Cusco LSD tuned for autocross, Moto-East tune, 17×9 BFGoodrich Rival S tires, Sparco Fighter seat, and a Braille lightweight racing battery.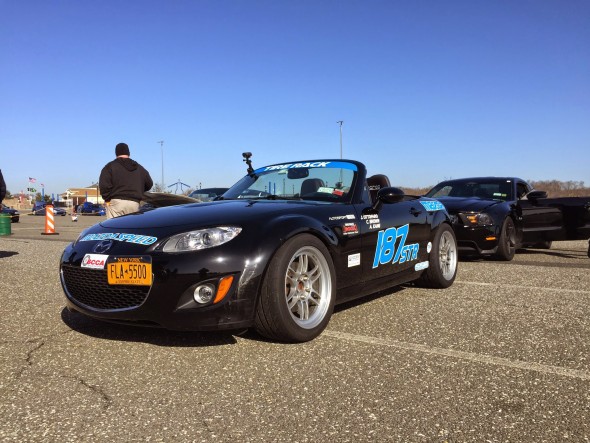 What class do you compete in?
My class is SCCA Solo Street Touring Roadster (STR). Street Touring classes run on street-legal tires and are allowed to modify some components of the car including suspension and brakes,
while remaining compatible with street use.
What's your racing history?
I started racing in 2009 when I was tracking my 2002 Miata. I only did track for about a year before I got hooked on autocross and never looked back. Autocross has taken me to so many different cities and I've met a ton of interesting people and have made some of my best friends through the sport. I've been able to race a variety of vehicles – front engine cars, mid-engine cars, all-wheel drive, front-wheel drive. Because of my racing history, I have had the opportunity to instruct at a few exotic car events as well.
What are your future plans for yourself?
I'm looking to progress myself to the highest level of autocross – a SCCA Solo National Champion. I have plans for the future of building cars for a couple other classes aside from STR, but right now I'm focusing on perfecting my STR MX-5 and improving on my technique for Nationals this year.
In what areas are you using RaceCapture/Pro to fill in knowledge gaps to help you go faster?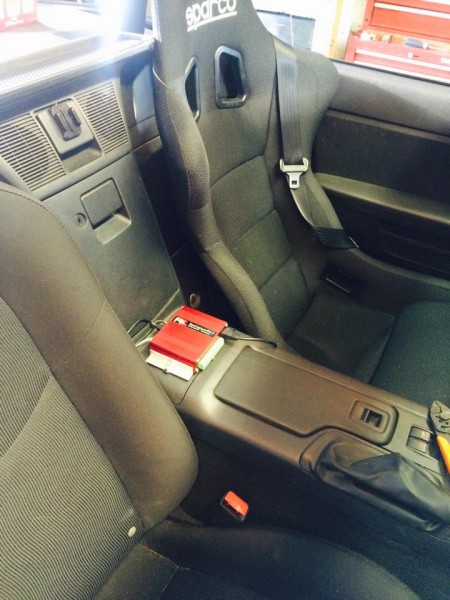 The season has only just begun, so much of what I've been using RaceCapture/Pro for is car set-up and set-up changes. The YAW sensor, for instance, can help me detect understeer and oversteer. Another helpful data point is lateral g-force which I can use to set the correct tire pressure by comparing which pressures allow the highest lateral g-forces.
Street Touring drivers have been having a bit of a debate regarding which of the newly released tires will be best for this season. RaceCapture/Pro can be an excellent aid in figuring out which tires give the best performance at the different locations.
A huge benefit of using RaceCapture/Pro is being able to compare runs with my codrivers. We're able to determine different braking points, and compare throttle inputs, and lateral g's among other things. When I'm driving with my codriver for this season or friends who are veteran autocrossers, we can both benefit from comparing runs and improving problem areas, but it's also a useful teaching tool when I'm driving with a beginner like my girlfriend, who can see in black-and-white what she needs to do on the course. I have been using Solo Storm on my Nexus 7, which uses the GPS and collected data from RaceCapture/Pro and can overlay the data with videos of all our runs.
RaceCapture/Pro is an amazing tool to help focus on driver improvement and car development.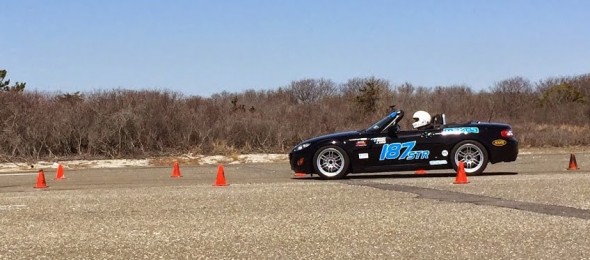 If you were any racetrack in the world, what racetrack would you be?
I'm an autocrosser, I don't have a favorite racetrack – course is always changing! But, I would love to try the famous corkscrew at Laguna Seca.