At last year's Red Bull Global Rally Cross event some decent swag was handed out by the major sponsors. One of the items we scored was a phone booster battery — not bad!
While cool, the construction of these are on the cheaper side. Like other inexpensive boosters, they lack a button to power up the charge port –  they just automatically turn on when plugged into your phone.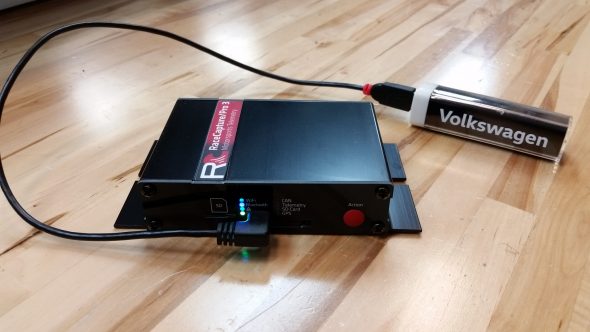 Turns out this cost-cutting move is actually a feature: keeping RaceCapture/Pro powered up during pit stops! Just plug it in to RaceCapture/Pro's USB port, and when 12v power is cut, it'll seamlessly provide power for an extended period of time. The unit we scored was rated 2200mAh, which is good for about 2 hours of continuous use.  Since these turn on/off automatically, they'll simply go idle when 12v is turned back on.
Benefits
What's the benefit of keeping telemetry active during the pit stop?
Maintain GPS lock
Watching sensors while engine is off (is the coolant temperature spiking due to lack of flow?)
Maintaining a constant cellular link
If you try out this technique leave us a comment with how it works for you!