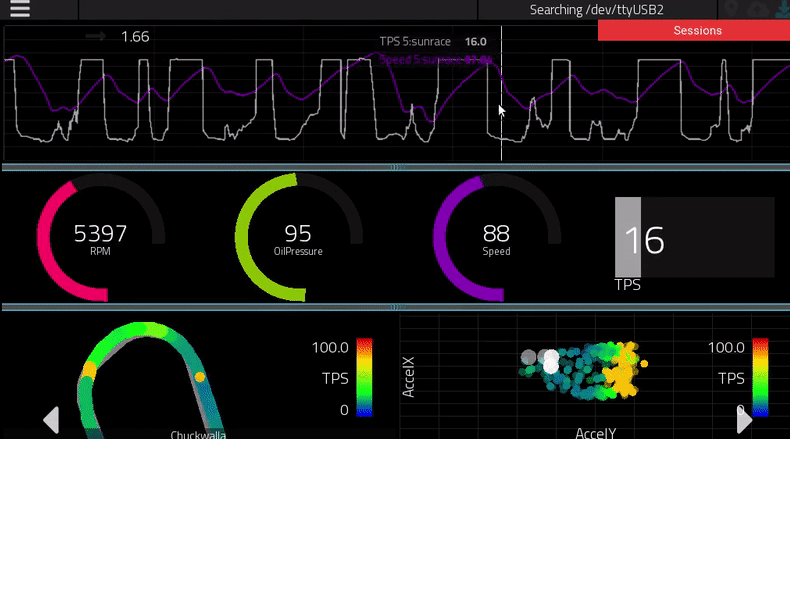 Big things are coming for RaceCapture and Podium – both software and hardware. Here's a sampling of what to expect in Q1 2020. Some of these will be delivered in the coming weeks, so brace yourselves!
RaceCapture app 2.0 – all about the analysis
Chances are you saw the big news about the new Podium app. When we designed it, we built it with a little secret:  It's advanced analysis features were built in a modular way, letting us also drop it into the RaceCapture app.
As they say, engineers are inherently lazy: they don't like building things twice.  So, you may ask – what are the benefits of this forward planning? An experience precisely tailored to your needs:
With the new enhanced analysis capabilities in the RaceCapture app, you can review lap and session data immediately on your device – especially useful if you're outside network coverage.
Use the Podium app to view live telemetry data in the pits, or review sessions after the fact. Share with your friends, race coaches, and pit crew – and focus just on the data.
Compared to the current analysis capabilities of the RaceCapture app, v2.0 brings an enormous upgrade. Here's a summary:
Improved performance
Performance in RaceCapture's datastore is vastly improved, so you get a responsive experience, even if you have 100's of laps logged in your session.
Flexible Analysis Layout
You can create resizable groups of gauges with any layout you'd like. Stack line charts, group gauges and organize them to your preference.
Multi-channel line charts
Create line charts with multiple channels in the same chart – even visualize multiple selected laps!
Enhanced Analog Gauges
Create multi-dimensional analog gauges, capable of visualizing multiple selected laps.
Enhanced Bar Gauges
A variation of the Analog gauge, it too can visualize multiple selected laps.
Scatter Plot
Scatter plots are a great way to visualize traction circles (G-force data) or any other channel – with the ability to add a 3rd heat channel, such as throttle position, to create an ultra powerful and highly visual analysis tool.
Smart, zoomable track map
You can overlay your GPS trace on track maps to see the driven line. You can also select a heat channel to visualize data in context of track position – all using our hundreds of track maps worldwide!
Race car overview
Show up to 32 channels, including tire temperature, tire pressure, engine stats and brake temperature all on one view.
Live timing and scoring integration
Also coming in Q1 2020: live timing and scoring integration with Podium and RaceCapture.
View current race position – live – in the cockpit
When enabled for a race, the race car driver will be able to see the following data live in the cockpit:
Position in class
Gap to car ahead in class
Gap to car behind in class
Current Full-course flagging conditions (Red, Yellow, Green)
Last lap time from timing and scoring
Blended with real-time telemetry data
This live timing and scoring data is combined with your current telemetry data, too. You'll be able to answer questions like:
Did the engine cool down because the race went full course yellow?
What race position were we in before that suspension adjustment?
CAN bus integration for Pit to car alert messages
With the 2.18.0 firmware we will be broadcasting pit-to-car alert messages via CAN bus, so they can be integrated with 3rd party systems such as RaceVoice, or broadcasted to your AIM or MoTeC dashboard to pop-up alerts.
New CAN sensors / devices plus new connector standard
We've worked hard to make the RaceCapture software nearly plug and play for the common uses – from the setup wizard to plug-in-and-go OBDII, it is one of the easiest to use systems available.  Now, we want to make connecting sensors and other accessories as simple as plugging together, selecting a preset and hitting the race track.
To achieve this goal, we've selected the industry-standard M-series round connectors as our primary interconnects between CAN bus devices and sensors. These were chosen for their compact and rugged design, with the ultimate goal of making all CAN accessories and sensors plug and play.  That's right – our ultimate goal is to let you assemble your sensors without crimping, cutting or soldering.
Connector Types
M8 – 4 pin

The 4 pin M8 will be used by CAN bus accessories to bring power + a single CAN bus channel to the device.
M8 – 6 pin

The 6 pin M8 will be used to convey 2 CAN bus channels + power to CAN bus devices; typically through a CAN bus distribution hub.
M8 – 3 pin

The 3 pin M8 will be used for 3 wire sensor connections – power, ground and sensor signal.  This will be the default for temperature and pressure sensors. Pigtails will also be available for custom sensor connections, as well.
We will be offering integration cables for RaceCapture/Pro and RaceCapture/Track to make everything a truly plug and play experience.
New CAN bus accessories
Here's a round up of what's coming in Q1. Pre-orders coming soon!
TireX
TireX is our multi-channel tire temperature sensor  – you can use TireX to create a heat map across the face of the tire.  Featuring a plug-and-play setup, you'll be able to visualize tire temperature data within minutes of installation.  Use it with the car overview widget in the new analysis capabilities:
AnalogX2
The new AnalogX2 will feature the same 4 high-impedance 0-5v buffered inputs, but will add plug and play installation with M8 connectors and a rugged, sealed enclosure.
GPIOx
The new GPIOx will offer 8 digital inputs or outputs. Channels set as output will be able to drive 1A, enough to power relays, indicator lamps or other small accessories. Also in a ruggedized enclosure with our standard M8 connectors.
Raspberry Pi hardware kit
The Raspberry Pi on RaceCapture has been a big hit, and no surprise – there's a big appeal for having a more dedicated dashboard experience for your race car. Check out the live stream we dropped in the Autosport Labs Facebook community with full details.
But Wait, there's more
Congratulations if you got this far in the blog post! Know that we've only touched the surface.  2020 will be a transformative year, all focused on making your racing more effective, fun and shareable.