What do you get when you combine a sad, much-crashed Chumpcar Miata with a new frame?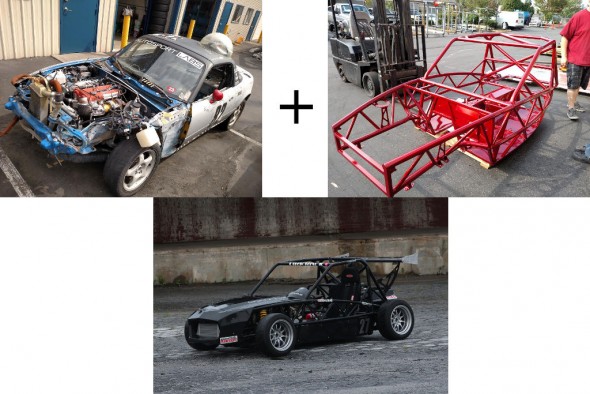 Something glorious
Last year, while in a cleaning mood I was on the verge of calling the local pick and pull to come rid us of our ruined Miata. The phone was ringing when Scott pointed me to the Exomotive Exocet. Slowly I hung up and the Miata was saved. A ton of research and many months later (the wait list is LONG) – we took delivery of the frame and just got it back from the powdercoating service in a beautiful red metallic.
Why Exocet? Three reasons.
1) Cost. At roughly $8K for the starting price of the full race version it might be the best value out there for a high performance kit car.
2) Ease of build. There are details, but it's essentially as easy as shedding the old Miata body and placing the new frame on top of the Miata mechanicals. See why our Chumpcar is the ideal candidate?
#3 The most connected race car in the world
3) Sensors + RaceCapture/Pro Telemetry We're going to turn this into a sensor showcase extravaganza. It's open space-frame design makes it the perfect platform for making the most connected race car in the world.  Stay tuned for more details!