Know before you overheat, not when you're overheating
Installing a coolant pressure sensor gives you the advance warning you need to handle a coolant pressure leak and avoid a time consuming failure, or worse – a catastrophic failure like a blown head gasket that will send you and your race team packing and home early. Plus, you'll probably avoid dumping your car's precious bodily fluids and not turn the track into a skating rink (but you just run straight water, right?) But we digress.
Fortunately, it's easy to add a coolant pressure sensor for real time monitoring – even real-time in the pits using RaceCapture telemetry!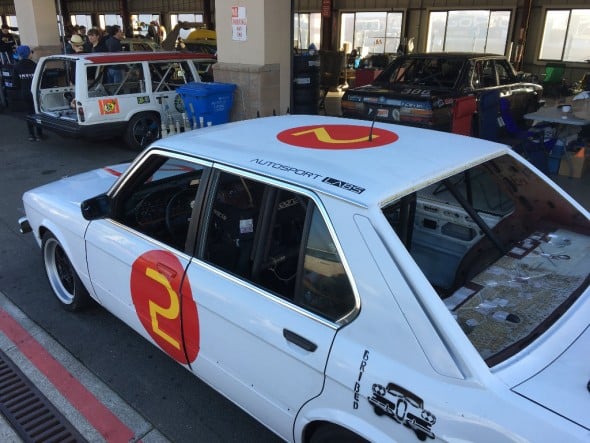 Pete Pressley, team captain of Cerveza Racing – a veteran 24 Hours of LeMons team with 7 wins in about as many seasons, used a generic 150 PSI coolant pressure sensor to feed pressure data to his RaceCapture/Pro telemetry system:
"After destroying my engine at a LeMons race when a lower cooling hose popped off, it was suggested to install a cooling pressure gauge.  While a gauge will work, it requires discipline to monitor, which doesn't always happen in the chaos of a LeMons race.  A benefit of the Race Capture system is that I can have the cooling system pressure highlighted in red on the app when there is a problem so that I am likely to notice quickly.  The ability to measure this and watch it in the pits using the real-time telemetry feature with the addition of an inexpensive pressure sender makes it a nice enhancement that happens to be very cheap.   This example also validates how easy it is to use generic pressure senders with RaceCapture.  I'm planning more instrumentation such as oil, fuel and brake line pressure."
Installation and wiring it up
Estimated time: One afternoon. Includes time for pizza and beer.
Parts list
Sensor installation
Find a spot in your cooling system that's convenient for the sensor installation. Since the system pressure is largely uniform (we'll just gloss over ultra serious teams that monitor pressure at different parts of the system).  Pete simply chose an available spot on the radiator of his E28 BMW race car: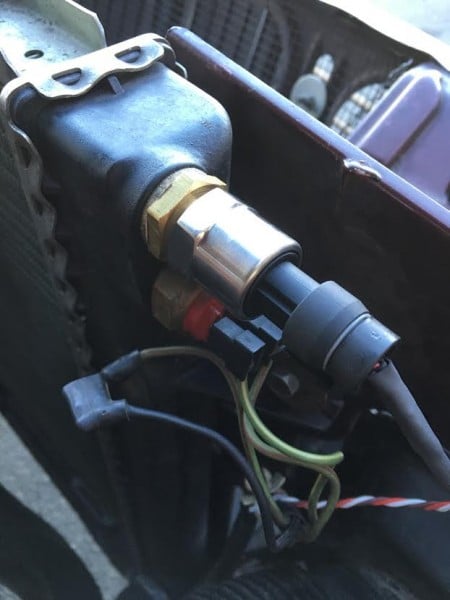 In this case, Pete used a brass radiator plug and modified it by tapping it 1/8-27, then screwed in the sensor for a clean install.
Wiring
The coolant pressure sensor is exceedingly easy to wire up with 3 leads: Power, ground and signal output.
Connect the sensor's ground to the location where you grounded RaceCapture/Pro. If you're into audio / classic HiFi you'll know why star grounding is so important.
Connect the sensor's power connection to RaceCapture/Pro's 5v voltage reference output.
Connect the sensor's output voltage to an available RaceCapture/Pro analog sensor input.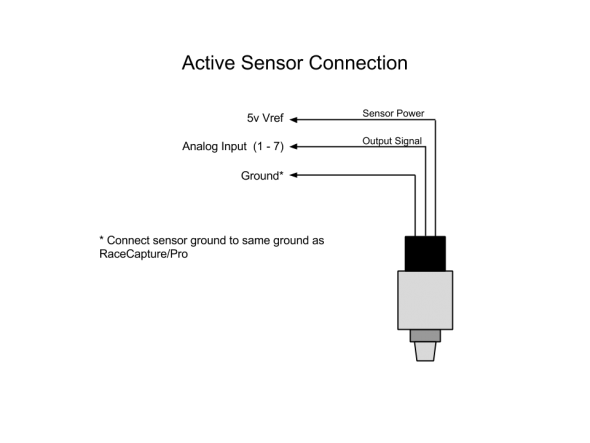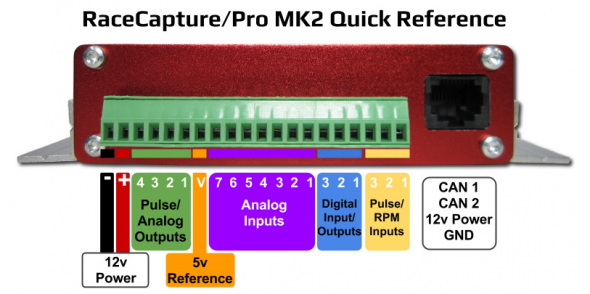 Calibration
Once you have it connected to the appropriate analog input channel, set the channel calibration. Fortunately, these types of pressure sensors are extremely easy to calibrate with a linear 0.5 to 4.5v voltage output across their rated pressure. So, for a 150 PSI sensor (10 bar metric equivalent) you'll observe:
0.5v = 0 PSI (0 bar)
4.5v = 150 PSI (10 bar)
Configure the RaceCapture/Pro analog input setting as follows. Note the Mapped Mode and channel mapping table: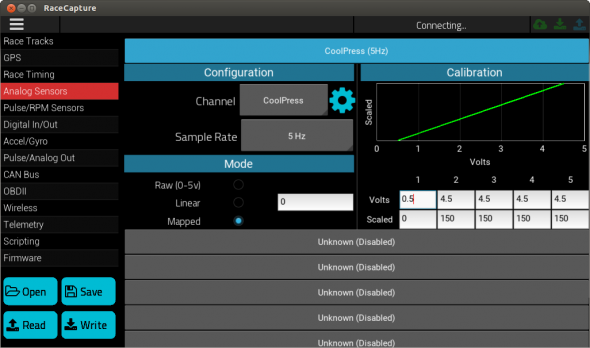 Customize the channel by touching the gear icon next to the channel name: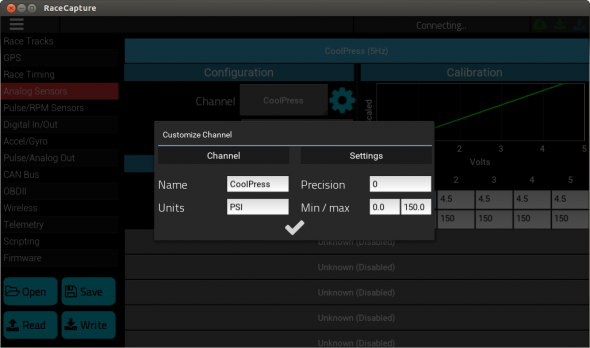 Once the configuration is set, write it back to the RaceCapture/Pro. (and save your configuration for safe keeping!)
Verification
While the engine is running, switch to the dashboard mode, configure a gauge with alert colors, or simply monitor it on the raw channels view. Here's a demo video after Pete completed his installation:
Improving your Race Craft
With RaceCapture telemetry, you get much more than an in-car dash or after the fact analysis – you can track your car's data in real-time, while it matters – during your race.
You'll also uncover fascinating information about what your race car is doing during the race, and you'll be able to correlate information, see trends and compare changes in setup.

Tell us your sensor ideas and battle stories
What happened to you during a race where additional knowledge / data would help? Comment here and tell us about your battle scars – and what additional data would help.