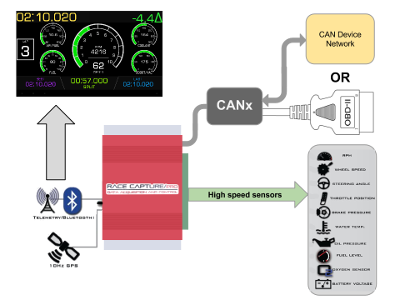 Leverage CAN and OBD2 data streams into your RaceCapture/Pro telemetry system!
System Overview
The CANx adapter is an interface for CAN bus networks and  2008+ OBD2 ports, complimenting the existing capabilities of RaceCapture/Pro.   CAN/OBD2 data is blended together with the existing RaceCapture/Pro sensors, 10Hz GPS and accelerometer/yaw sensors, forming a comprehensive, high performance data acquisition system.
This data is logged to SD card memory and also transmitted up to the cloud in real time at race-capture.com and the Race Capture app using the optional telemetry module.

The Physical
The CANx interface is a compact module that sits between the vehicles OBD2 port and the RaceCapture/Pro expansion port.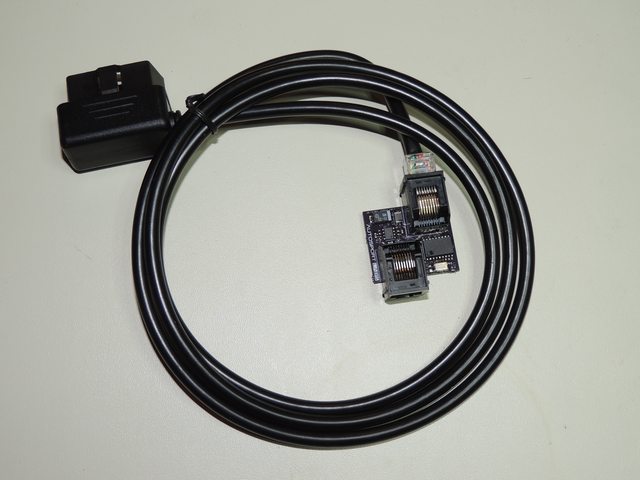 The standard package will include the compact CANx  interface module and a 6 foot OBD2 cable.
OBD2 Support
OBD2 via CAN is supported on 2008 and newer vehicles (many go back as far as 2006; Volkswagen is a good example). We will initially offer a subset of the standard SAE OBD2 PIDs we feel are most interesting:
RPM
Throttle Position
Coolant Temperature
Calculated Engine Load
Fuel Pressure
Timing Advance
Intake Air Temperature
MAF Air Flow Rate
Intake Manifold Pressure
More PIDs may be added in the future as needed.
CAN bus support
Aside from OBD2 integration, many automotive and motorsports devices  support CAN communications as a standard protocol:
Tire Pressure monitoring systems (TPMS)
Tire Temperature monitoring systems
Data Acquisition systems such as Motec, AIM, and RacePak data loggers
Engine management systems such as Link, Motec and AEM
Race Car dashboard displays such as AIM MXL display
Various sensor I/O expansion modules – such as thermocouple amplifiers and sensor expansion systems
Many of these system can be configured to automatically transmit messages on the CAN bus, which can be consumed by RaceCapture/Pro for logging and real-time telemetry broadcast.
For generic CAN support,  a number of channels can be configured to capture interesting CAN bus messages. for each message you'll be able to configure:
The CAN message ID RaceCapture/Pro will listen for
the size of the message and message contents
The RaceCapture/Pro channel  (Tire temperature, RPM, EGT, etc. ) the message would map to.
Direct sensor and CAN bus data – a powerful combination
The OBD2 interface provides the ability to offload slow and medium speed sensors such as coolant temperature, throttle position and RPM. This lets you reserve the direct sensor ports for high sample rate sensors like logging suspension travel or Exhaust gas temperature.
Tying it all together
Data from OBD2 and CAN bus can be blended with the built-in high speed sensor ports and logged to the local SD card or streamed in real-time it to race-capture.com and even our mobile dash – giving you comprehensive,  real-time racing data integration! 
Availability
Expected availability for the CANx CAN  and OBD2 expansion module is Feburary 2014.