New firmware – a couple of high value fixes and improvements
As we're working towards a 2.9.0 firmware release with tons of major enhancements, we realized there were a few low hanging fruits which would be really easy to get out. So, we present you with RaceCapture/Pro firmware 2.8.6.  Get it now from our downloads page.
There are two important improvements, and these apply to MK2 only.
Actual OBD-II units matching channel units
Temperature and distance OBD-II channels now correctly report in degrees F / MPH, matching the default OBD-II channel configuration. In an future major app version we'll offer the ability to select units and perform data conversions for CAN and OBD-II data, but for now – we felt it was more sane to at least match the default units for the channel.
Improved Gyro and Accelerometer sensitivity and accuracy
We adjusted the internal calibration of RaceCapture/Pro's IMU (Inertial Measurement Unit) which outputs the Accelerometer and Gyro channels. The benefit is it increases sensitivity, smoother response and corrects internal calibration issues. Note, you'll still need to calibrate the system in your car after installation.
RaceCapture 1.4.1 App
Windows 10 fixes
Version 1.4.1 app corrects the firmware updating issue on Windows 10.  We found out Windows 10 is great for RaceCapture in many other ways- for example, Windows 10 sees RaceCapture as a simple USB serial device – NO special USB driver needed! 
Truly, it has blown our mind. We'll be certain to ensure the new RaceCapture featured in the Kickstarter campaign also shows up as a simple USB-Serial device as well.
App Analysis enhancements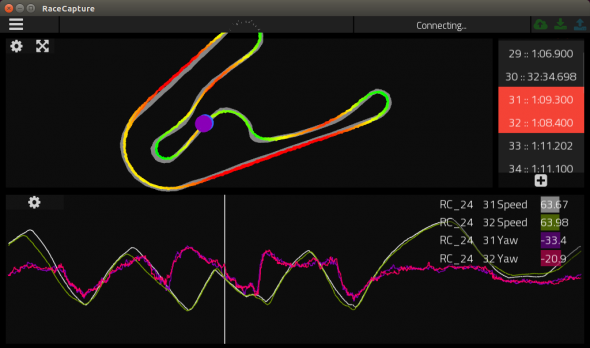 Looks similar to the 1.4.0 beta release we recently announced? That's because it is – on the surface.  1.4.1 has a number of internal improvements, setting the stage for adding a slew of very noticeable features and fixes starting with 1.4.2 and 1.5.0 release. You can also fetch it from our downloads page, or participate in the Android Beta testing and test it out on a real multi-touch interface.  (Windows 10 with a touch screen is amazing too!)
We're open baby.
Did you know our development process is open? You can see what we're working on and what's scheduled to come up. You can even comment on our ideas and submit new ones. Check it out on the RaceCapture app project – you have a direct line to the Autosport Labs staff working to bring these ideas to life. Well, more or less. you can't have our personal phone numbers, and we might not reply to something off-hours 🙂
Needless to say, the incredible promise of the RaceCapture app combined with the RaceCapture hardware and the Podium platform makes it a super powerful one-two combination.  We're bringing it!